Gina Gershon showed some really nice cleavage when she appeared in the Ugly Betty tv-series, where she played sexy Fabia, an Italian cosmetics mogul, the rival of Wilhelmina Slater.
Ok, maybe Gina really is not something that could be considered as a big busted actress, as her boobs are not that big - but in this Ugly Betty scene those tits look big enough to be included here.
As an actress Gine is known for her roles in the films like Cocktail (1988), Showgirls (1995), Bound (1996), Best of the Best 3: No Turning Back (1996), Face/Off (1997), The Insider (1999), Demonlover (2002), Category 7: The End of the World (2005), P.S. I Love You (2007) and Five Minarets in New York (2010). She is currently a supporting cast member of the HBO series How To Make It In America.
But here's some more caps of her lovely cleavage from the Ugly Betty.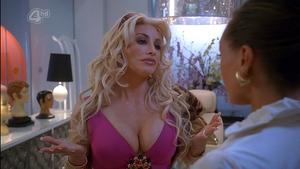 HTML Code:
http://rapidshare.com/files/358837108/Gina_Gershon_mvp_Ugly_Betty.mpg
39mb
OR
HTML Code:
http://www.megaupload.com/?d=BD4YIC10